Why is my result different from the declared speed of the provider?
Working in one of the providers, I constantly faced criticism that the provider is cheating and does not comply with the terms of the contract. After long discussions with users, I decided to create my own resource Speedtest Specialty, which you can completely trust.
The main reason for creating this resource - the user chose not the optimal server.
Well, I chose the right server, but my result is far from the declared speed of the provider! What should I do?
Now let's look at this diagram and understand why the provider / technical support is asking the same question
"Are you connected directly to the cable or through a router?"
There is no problem between the
Speedtest
server and the Internet.
Naturally you ask why !?
When I worked as the head of the department of network building and monitoring, this server was located in our data center and I was sure that it was not loaded and can provide the necessary bandwidth.
The next question will be natural - and if I'm not your subscriber?
This is a good question, but if you are on this resource, then probably you were looking for
Ukrainian Speedtest
and in this case your provider is most likely located in Ukraine, which means that it will be connected to one of the Ukrainian exchange points -
UA-IX
or
DTEL-IX
.
you can ask: "And where is the advantage?"
The advantage is that practically all providers enter into these exchange points and problems with bandwidth here can not be purely theoretical, because Expansion of the bandwidth does not affect the cost of payments for the data transmission channel. Well, a fly in the ointment - at this
speedtest
you can check only the tariff "Ukraine", and to check access to foreign resources, I recommend using another test`s resource.
speedtest.tel
.
So what should I do if my tariff is 100Mbit / s and more, and I see an excellent result?
Recommendations for fixing this problem:
Turn on the computer on a straight cable without a router and check again.
Why is it important? This is important for several reasons:
Problem # 1 is a problem with Wi-Fi if you use it. Among the problems with Wi-Fi are the following
1) You live in a multi-storey building and there is a lot of interference from neighboring access points and, as an option, the solution to this problem is to choose a free channel or purchase a new 5 GHz Wi-Fi router, provided that your devices support this type of connection.
2) Your computer / tablet / phone did not connect to that standard (for example your router supports a / b / g / n), and your device works only in "g", that's why you can see the speed of up to 3 megabytes in second (this speed is shown by the programs Firefox, Safari, Crome) well, or in the results of
speedtest
~ 24 Mbit/s.
2.1) Both devices (computer and router) work in N standard, but there is no coveted speed. As a rule, this problem is described in paragraph 1.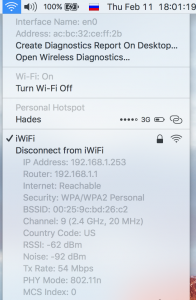 Here it is necessary to pay attention to the modulation scheme - MSC0 and the channel width - 20Mhz from the table it is possible to understand what speed can be (OS X is quite a clever system and displays this parameter - 54 Mbit / s). For Windows users, you can point to the icon with Wi-Fi (but unfortunately you can not learn about the modulation mode).
HT MCS Index
Spatial Streams
Modulation & Coding
Data Rate (GI = 800ns)
Data Rate (GI = 400ns)
Data Rate (GI = 800ns)
Data Rate (GI = 400ns)
20MHz
20MHz
40MHz
40MHz
0
1
BPSK 1/2
6.5
7.2
13.5
15
1
1
QPSK 1/2
13
14.4
27
30
2
1
QPSK 3/4
19.5
21.7
40.5
45
3
1
16-QAM 1/2
26
28.9
54
60
4
1
16-QAM 3/4
39
43.3
81
90
5
1
64-QAM 2/3
52
57.8
108
120
6
1
64-QAM 3/4
58.5
65
121.5
135
7
1
64-QAM 5/6
65
72.2
135
150
1
256-QAM 3/4
78
86.7
162
180
1
256-QAM 5/6
n/a
n/a
180
200
8
2
BPSK 1/2
13
14.4
27
30
9
2
QPSK 1/2
26
28.9
54
60
10
2
QPSK 3/4
39
43.3
81
90
11
2
16-QAM 1/2
52
57.8
108
120
12
2
16-QAM 3/4
78
86.7
162
180
13
2
64-QAM 2/3
104
115.6
216
240
14
2
64-QAM 3/4
117
130.3
243
270
15
2
64-QAM 5/6
130
144.4
270
300
In this table, the values for the 80 Mhz band (AC standard) are not given.
For computers running on Windows, the utility is
NetStumbler
and for OS X a good utility is
iStumbler
.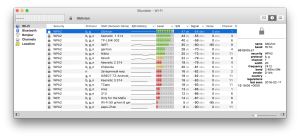 Naturally, Android device owners have a good utility -
Wifi Analyzer
.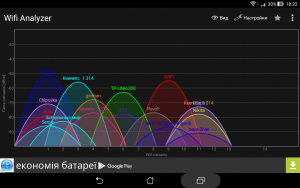 I think that from this chart it is already possible to understand how the broadcast is clogged up and the need to purchase a new router with support for 5 Ghz !!!
3) The next problem is the "weak" processor in the router, which does not allow to get a high speed. For example, the DIR-100 or WRT54GC will not allow you to get more than 30 Mbit/s!
That's why technical support asks you to turn on the computer to "direct", i.e. without the participation of the router.
4) The next problem is already connected with the connection and you can determine it without a call to technical support. For this we need a useful utility - mtr. For Windows it is called
WinMTR
. For OS X users,
the installation instruction mtr
, also it can be installed with
mac ports
-
sudo port install mtr
.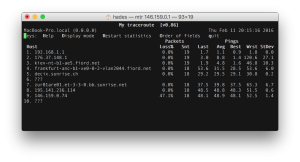 In this screenshot you can see the loss of packets in 47% on the 9th node and it is already connected not with the provider that provides the service, but with the service itself.
If the packet loss started on the 1st node, then the problem would be with the router, if on the 2nd node there are problems with the connection between the router and the provider (also the data loss can occur with the maximum load of the channel), on the 3rd node there are problems with the channel provider....